We want to be of service and help bring value and "order to your chaos" regardless of your marketing communications or public relations challenges. We have the experience and depth to make it happen.

How We Work
We're able to work on a single project, implement your marketing or public relations program or enhance your in-house staff on a project. We're able to bring the most competent professionals to a project -- whether you need a single consultant or a team of experts, you'll receive the appropriate talent and resources to achieve the desired outcome for your business.

Founder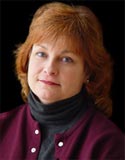 Karen Rohack McLaughlin APR is Queen Buckaroo of QB Comm and has more than 20 years of bountiful and extensive marketing communications/public relations' experience. She has provided globally or domestically integrated marketing communications, public relations and project management expertise to clients in industries ranging from high technology to consumer-based sales.
Advisor, Coach, Straight Shooter
"Brings Order to Chaos"
Strong relationship building and cultural awareness development
Experienced in communicating technical issues with clarity
Accreditation in Public Relations (APR)
Strong belief in business etiquette, integrity, ethics and values.
She is a member and sits on the board of the International Association of Business Communicators - Silicon Valley chapter and is also a member of Public Relations Society of America (PRSA) and past Ethics Chair of the Silicon Valley chapter. She is a lifetime member of Who's Who Worldwide.